Back to news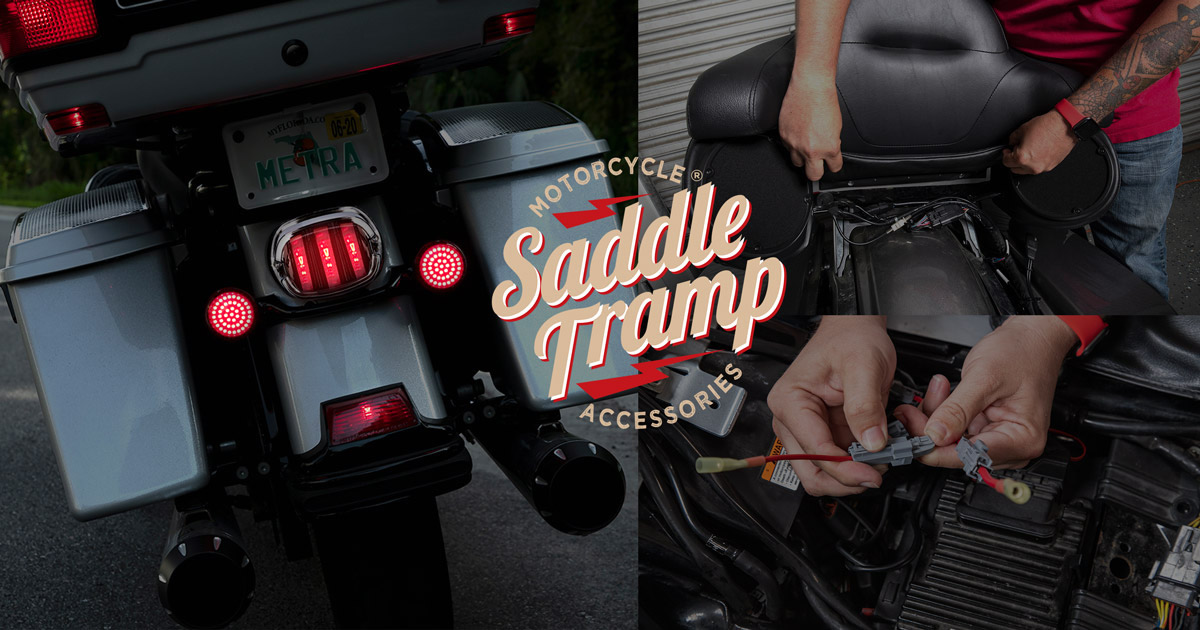 Saddle Tramp® Ships New Audio Installation Products Designed to Fit Harley-Davidson® Motorcycles
Jan 12, 2022
Holly Hill, Fla. – Saddle Tramp® by Metra Electronics® has new radio installation kits, digital signal processors, smart brake light flashers, a new and improved handlebar audio control retention interface, accessory harnesses, and an amp wiring kit, in stock now and shipping. All of these new products are designed to fit select Harley-Davidson® motorcycle models for easy installation, giving owners better options for audio system upgrades and customizations. These new products were first shown at the 2021 SEMA Show and will also be on display at the AIMExpo in the Las Vegas Convention Center from January 19th to 21st.
Radio Installation Kits
Saddle Tramp's new radio installation kits include an interface with a water-resistant enclosure, wiring harness, and an antenna adapter to make replacing the factory radio easy. The interface retains the use of the factory handlebar audio controls and other features, depending on the kit. The BC-HDR-K1 is for an ISO Double-DIN radio that has an "L" shaped chassis design with the chassis at the top, and the BC-HDR-K3 is for a Single-DIN radio. Both kits are designed to fit non-amplified 2014-up* Harley-Davidson® Street Glide, Electra Glide, Ultra, Limited, and 2015-up* Road Glide models. Saddle Tramp's new Police Edition kits are designed to fit 2014-up* Harley-Davidson® Electra Glide FLHTP models with the police package. The BC-HDR-K4 is for an ISO Single-DIN radio and the BC-HDR-K2 is for an "L" shaped Double-DIN or modular radio with the chassis mounted at the top. Both of the kits designed for Single-DIN radios include an LCD screen to display the oil pressure and EITMS status.
Digital Signal Processors with Built-in Interface
Saddle Tramp's new patented DSPs are designed for easy integration with aftermarket or factory systems for an enhanced sound system with full tuning control. The BC-DSPL-HD1 fits 1998-2013 Harley-Davidson® FLH and FLT motorcycles with plug-n-play harnessing. The BC-DSPL-HD2 fits 2014-up* Harley-Davidson® Street Glide, Electra Glide, Ultra, Limited, and 2015-up* Road Glide models. The BC-DSPL-HD2's key benefit is its advanced integration technology reflashes a non-amplified radio for a flat response curve, without the need for external equipment. This reduces the cost, saves time, and allows installers to provide better service with complete control over the upgrade. Both DSPs provide six channels of output and a fifteen-band graphic EQ per channel with a selectable slope. Installers can adjust and control the sound system specifically for the acoustics of the motorcycle and the driver's personal audio preferences. All tuning is done wirelessly via a smart app for tablets or phones and can be password-protected once set up.
BC-DSPL-HD1 and BC-DSPL-HD2 Product Specifications
6 channels of output from the DSP
15-band graphic EQ per channel with a selectable slope (12, 24, 36, or 48db per octave)
Built-in selectable crossover per channel (high, low & band) to achieve the perfect sound
Independent equalization for front, rear, and subwoofer
Time delay circuit per channel (front and rear channels can be delayed independently up to 10ms)
Tuning setup and wireless control via a smart device application (tablet or mobile phone)
Read, write, and store configurations for future recall
Optional password protection feature for tuning control via the mobile app
Small footprint for easy installation behind the fairing
Pre-wired harness for easy amplifier installation
Retains balance and fade control
Built-in clipping detection and limiting circuits
Bass knob included
Water-resistant case & connections
Micro-B USB updatable
U.S. Patent 9,875,078
BC-DSPL-HD2 Features:
Integration technology to reflash the factory radio
Creates a flat response curve without the need for external equipment

Smart Brake Light Flashers
Saddle Tramp has three new smart brake light flashers for drivers looking for better visibility by adding a strobing or flashing brake light effect. A rotary switch on the control box has selectable options for ten different patterns, such as a slow flash and then solid light, or constant strobe. This plug-n-play flasher is easy to install and is designed specifically for the original factory rear brake lights, and is not compatible with rear bullet-style brake/turn signal lights. The BC-HDSSF1 fits 2014-up* Harley-Davidson® Street Glide, Road Glide, and Road King Touring models, the BC-HDSSF2 fits 1996-2013 Electra Glide, Ultra Classic/Limited, Road King/Classic, and Road Glide Standard/Ultra/Custom Touring models, and the BC-HDSSF3 fits 2010-2013 Street Glide and Road Glide Touring models.
BC-HDSSF1/2/3 Product Specifications
Add a flashing or strobe light effect to brake lights
84 watts/7-amp selectable strobe light
10 selectable patterns for LED lights
Works with original factory LED or incandescent rear brake lights
Plug-n-play installation
Handlebar Audio Control Retention Interface
Saddle Tramp's new and improved BC-HDSWC-WR interface retains the use of the factory handlebar audio controls when replacing the radio. It is designed to fit 1998-2013 Harley-Davidson® FLH and FLT models with a fairing, without the factory amplifier, and with two speaker systems. It uses patented Auto-Detect technology that configures itself for the specific motorcycle application and connected aftermarket radio. It now includes a water-resistant case and comes with a plug-n-play harness for easy installation. This interface also provides wires for speakers, constant power, switched power and ground.
Accessory Harnesses
Saddle Tramp continues to make wiring aftermarket audio systems even easier with plug-n-play connections designed to fit Harley-Davidson® motorcycles. Their latest accessories include the BC-9711 rear speaker retention harness for 1998-2013 Harley-Davidson® FLH and FLT models, complete with pre-terminated Molex™ terminals and oxygen-free copper wiring. The BC-9717 is a plug-n-play rear speaker bypass harness used for splitting the inputs and outputs when installing aftermarket amplifiers in 2014-up* Harley-Davidson® Ultra Limited models. For adding aftermarket 12volt accessories to a power source, the BC-9719 is a battery accessory Y harness with OE connectors designed to fit 2004-2013 Harley-Davidson® Touring FLH/FLT models and 2014-up* Touring and Trike models with Stage II Boom!™ Audio packages.
Amp Wiring Kit
Saddle Tramp's new BC-9703 is an amplifier wiring kit designed to fit 2014-up* Harley-Davidson® FLH and FLT models. It is used for installing single or dual amplifiers in the front fairing with a quick disconnect for each amplifier. It is constructed with oxygen-free copper for the best possible conductivity and audio performance and includes 8-gauge 5.5-foot power and ground wires, a 60-amp mini ANL fuse and holder, an ignition T-harness for amplifier turn-on, and an over mold split to two 10-gauge power and ground wires.
All of these new motorcycle products are in stock now, with additional details and wiring diagrams available at MetraOnline.com. AIMExpo attendees can see them in person at booth 2005 from January 19th to 21st at the Las Vegas Convention Center. Metra Electronics will also be participating in the Parts Unlimited and Drag Specialties Spring NVP Expo from January 29th to 30th at the Kentucky International Convention Center to showcase their latest Saddle Tramp products. A special training session covering these new products will also be hosted at KnowledgeFest at the South Point Hotel & Casino Convention Center in Las Vegas from February 18th to 20th.
*See MetraOnline.com for up-to-date, vehicle specific information.
About Metra Electronics®
At Metra, 12volt installation and integration is our passion. We strive to continuously offer the highest quality products to meet the fluctuating technological challenges of the automotive world. We actively listen to our customers' requests and invest resources in developing the highest quality dash kit and harness solutions. We make dash kits for more vehicle applications than anyone else in the world. That's why we've been known as "The Installer's Choice" ® for more than 75 years. Our other brands include: Axxess®, T-SPEC®, The Install Bay®, Heise LED Lighting Systems®, iBEAM Vehicle Safety Systems®, Shuriken High Performance Batteries®, Raptor®, Ballistic®, AmmoTenna®, Metra PowerSports®, Saddle Tramp®, Metra Marine® and Daytona Lights®. Metra's expertise in connectivity solutions is also applied to its division of premium AV and surveillance products from MetraAV™. For ordering information and pricing, visit Metra Electronics online at MetraOnline.com or call 386-257-2956.